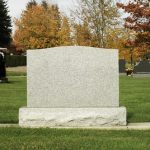 In the heart of cemeteries and burial grounds, historical monuments stand as silent storytellers of the past. These structures, often weathered and worn by the passage of time, require careful restoration to preserve their beauty and significance. In this article, we'll delve into the intricate process of restoring burial monuments, exploring the methods employed by preservationists to breathe new life into these venerable structures.
Understanding the Significance
Before delving into the restoration process, it's crucial to comprehend the significance of burial monuments. These structures serve as tangible links to our history, encapsulating the stories of individuals and communities. Monuments, whether grand mausoleums or simple headstones, are more than markers of the departed; they are cultural artifacts that reflect the values, aesthetics, and craftsmanship of their respective eras.
Assessment and Documentation
The restoration journey begins with a meticulous assessment of the monument's current state. Preservationists carefully document every detail, noting structural weaknesses, weathering patterns, and material composition. This phase is crucial in developing a comprehensive restoration plan tailored to the monument's unique characteristics.
Cleaning and Surface Preparation
Years of exposure to the elements often result in the accumulation of dirt, grime, and biological growth on monument surfaces. The first step in the restoration process involves cleaning the monument. Preservationists use a combination of specialized cleaning agents, soft brushes, and sometimes even lasers to delicately remove contaminants without causing harm to the underlying structure. This step not only rejuvenates the monument's appearance but also facilitates a closer inspection of its condition.
Repairing Structural Damage
Many burial monuments suffer from structural damage over time. Cracks, chips, and erosions can compromise both the aesthetics and stability of the structure. Skilled restoration experts employ various techniques, such as patching with compatible materials, to repair these damages. The goal is not just to mend the visible flaws but to ensure the monument's structural integrity for generations to come.
Consolidation and Strengthening
In some cases, monuments may exhibit signs of material decay, where the stone or other components are becoming friable. Preservationists use consolidation techniques to strengthen and stabilize the materials. This may involve the application of consolidants that penetrate the stone, reinforcing its structure and preventing further deterioration. The process requires a delicate balance, as the goal is to fortify the monument without altering its original appearance.
Recreation of Missing Elements
Time is relentless, and some burial monuments may have lost elements over the years. Whether it's a missing sculpture, lettering, or decorative elements, restoration experts employ their artistic skills to recreate these missing components. This intricate work demands a deep understanding of the monument's historical context, architectural style, and the craftsmanship prevalent during its era.
Protective Coating
Once the restoration work is complete, the monument requires protection from future environmental factors. Preservationists apply a protective coating to shield the structure from the impact of weather, pollutants, and biological agents. The choice of coating depends on the monument's material composition and the environmental conditions of its location.
Documentation and Maintenance Guidelines
A restored burial monument is a testament to the dedication and skill of preservationists. To ensure its longevity, comprehensive documentation is crucial. This includes recording the materials used, restoration techniques applied, and any additional information pertinent to future maintenance. Preservationists often provide guidelines for ongoing care to custodians or caretakers, ensuring that the restored monument continues to stand as a beacon of history.
Community Involvement and Education
The restoration of burial monuments is not merely a technical endeavor; it is a collaborative effort that often involves the local community. Engaging the community in the restoration process fosters a sense of ownership and pride in the shared cultural heritage. Additionally, educational initiatives that accompany restoration projects help raise awareness about the importance of preserving these historical landmarks and the techniques involved in their restoration.
Summary
The restoration of burial monuments is a meticulous and artful process that goes beyond mere preservation. It is an investment in our shared history, a commitment to honoring the lives and stories embedded in these structures. As we witness the revival of these monuments, we are reminded that the past is not lost but patiently waiting to be rediscovered and cherished by future generations.
Need Monument Makers in Walterboro, SC?
Since 1968, Steedley Monument Works has remained as Walterboro, SC's premier monument maker. As a third generation family owned and operated company, we strive to deliver personalized services at a fair price. We have an indoor showroom and an outdoor display set up to highlight numerous head stones, memorials, and markers. We use numerous methods such as laser etching, shape carving, sand blasting, and more, additionally we offer all types of granite and marble for your perfect purchase. Contact us today to learn more about what we can do for you.