6/29 updated kb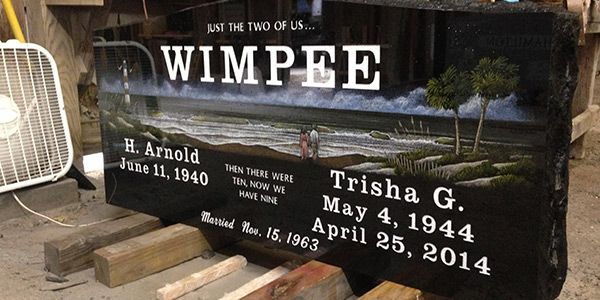 Steedley Monument Works is your source for a wide range of quality granite products, from bevels to custom granite headstones in Walterboro, Canadys, and Hendersonville, SC and serving as far as North Florida. Contact us to learn more about our inventory of granite tombstones and cremation products, our etching services, and more. But first, here is a closer look at the different custom products we proudly offer:
---
Single and double setups: Whether you are burying your loved one in a double or single grave, we will create lovely burial headstones that perfectly honors their unique spirit and meets your needs.
---
Bevels: Create a granite surface unlike any other when you hire Steedley Monument Works to design and install a unique and expertly crafted bevel.
---
Bronze plaques: If you want to give your deceased loved one an especially lovely final goodbye, inquire about our elegant bronze plaques.
---
Unique burial monuments: If you want something a little different than all the typical granite monuments in Walterboro, SC, you can always trust our team to provide it.
---
Statues: Make a statement and give a loved one the highest honor by investing in a one-of-a-kind granite statue from Steedley Monument Works.
---
Benches: For the most sturdy and well-made granite benches in Walterboro, SC, you can always count on Steedley Monument Works.
---
Companion stones: Ensure that you and your loved ones are never separated by taking a moment to come look at our companion stone selection.
---
Vases: Granite vases are the perfect way to make sure that flowers brought to a grave look elegant and stay nice for as long as possible.
---
Cornerstones: Finally, our cornerstones can make for a sturdy, impressive and enduring monument for your lost loved ones.
---
Flat Markers: These markers come in different styles and makes. You are sure to like the flat marker feature for long lasting memories.
---
Coping: Coping guarantees that the ground will be firm and that nothing can cause a disturbance for a long lasting time.
---
Ledgers: Ledgers are a nice way to remember your loved ones for eternity. This feature makes it highly visible for all to see.
---
Pet Memorials: 
---
Porcelain Photos:
---
Signage:
---
Slant Markers:
---
Dedicated Memorials: