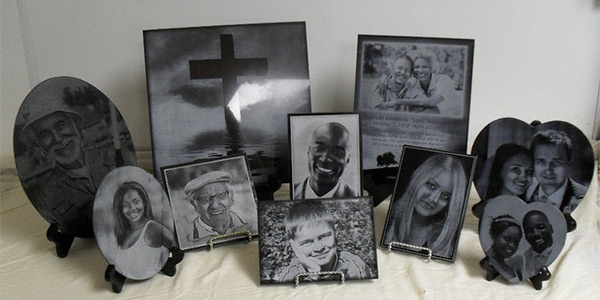 A tombstone is just a slab of granite until you put your loved one's name and dates of life on it, and a bench is just a bench until you place a memorial plaque on the seatback. Etching makes a world of difference, and the quality and style of the etching can also have a huge impact. For something as important as honoring a loved one's life, you deserve to have the best possible etching services from Steedley Monument Works in Walterboro, Canadys, or Hendersonville, SC.
Superior Etching Services
Since 1968, Steedley Monument Works has been striving to provide just that. Here is what you can always expect when you trust us to be your etching service in the Low Country:
Quality work: With nearly 50 years of experience and a commitment to excellence, the etching team at Steedley Monument Works has the resources, expertise and precision necessary to give you great results every time. No matter what we are engraving, we will always give the product our full attention and respect.
Diverse products: We are proud to provide etching services for a wide range of products, including but not limited to cremation urns, monuments, mausoleums, bronze plaques, glass, vases, benches, statues and granite signs.
Interactive memories: For customers who request etching on our granite tombstones in Walterboro, SC, Steedley Monument Works is happy to offer a membership to MemoryLink.com. You will then have the option to place a small QR code on the tombstone, which will link to photos and information about your deceased loved one. Ask us about adding this cutting-edge feature to your loved one's monument.
---
---
Whatever products you need etched, Steedley Monument Works would be happy to take on your business. You can learn more about our etching services for granite monuments and cremation products and prices by calling 843-538-8103, or by visiting our Contact Us page. We look forward to hearing from you.