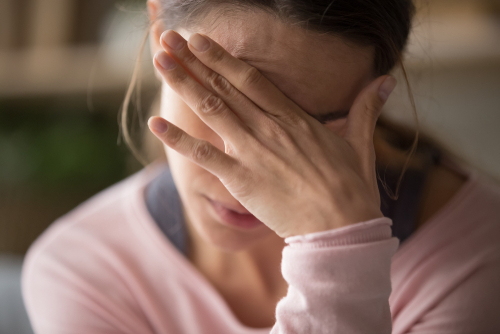 Whether you're grieving the loss of a loved one, a career change, or any other major life event, it can be tough to understand what comes next. Rather than looking to a checklist of "stages of grief," experts say there are five ways you can better cope with your pain.
1. Understand That You Are Not Alone
Grief is a natural process that affects all people at some point in their lives. Whether it's from a death, moving away, getting married or losing a pet, everyone experiences loss in their own way. If you've lost someone you love, it can be easy to feel isolated when you are in the middle of your grief. But don't be afraid to reach out and ask for support if you need it. When people say things like "there is no right or wrong way to grieve" or "you're not alone," they may be trying to ease your discomfort by telling you that it's OK to feel the way you do, and that it's okay to have a sad time.
2. Know That It Is Normal To Feel Sad
Sadness is a normal reaction to upsetting, painful, or disappointing situations. It can vary in intensity, but generally fades with time. Rather than avoiding or running from sadness, it may be helpful to acknowledge and accept your feelings. This can help you move forward in your life more meaningfully and with less anxiety. It's also important to remember that sadness is an essential emotion for learning, coping, and growing. If you feel like your grief is getting worse and you can't shake it, it may be time to talk to a doctor or therapist. They can recommend strategies to cope with your feelings and help you understand them better.
3. Don't Compare Your Grief To Others'
Grief is a personal experience that is influenced by many factors. Trying to compare someone's grief to your own can be harmful and a big mistake. It can also be a sign of disenfranchisement, which occurs when others don't validate your feelings about a particular loss, making you feel less deserving of support. In fact, this comparison of grieving people can rob them of dignity and their sense of significance and importance. Whether you are experiencing the loss of a loved one, a job, or a pet, your grief is just as valid and important as anyone else's. You should not be made to feel as if yours isn't as valid because it could have been worse.
4. Take Care Of Yourself
Loss is a natural part of life and everyone experiences grief at some point. But you may need professional help if you are finding it difficult to cope. Grief can be very exhausting, both physically and emotionally. You should try to get enough sleep, eat well and exercise regularly. You should also be aware that anniversaries, birthdays, or special events can trigger feelings of loss again. You may also have a hard time coping with negative thoughts, such as, "Life is unfair," and you might find yourself thinking, "I will never get over this." These thoughts are normal and will eventually pass. But you shouldn't let them rule your mind, and you should be extra careful not to use alcohol or drugs to numb yourself from the pain.
5. Don't Be Afraid To Ask For Help
Becoming brave enough to ask for help is a necessary part of the grieving process. It also demonstrates that you don't have to face your fears alone. People often fear that asking for help is an act of weakness, but in reality, it can be considered a vote of confidence to others. And if for nothing else, asking for help can actually strengthen bonds and even break down prejudices.